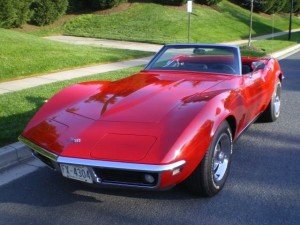 Image courtesy Wikimedia Commons
The earliest models of the C3 generation Chevy Corvette convertible top represent a transitional time in the Corvette line, between the muscle car of the 1960s and the supercar of the late 1970s. (It also marks the point when the "Stingray" name became all one word, as opposed to the Corvette "Sting Ray" convertible of the early 1960s.)
Most of the engine and chassis components of the earlier Corvette soft top models were used in the C3 generation, but the C3 convertible top featured all new styling in the body and interior. Chevy also took this opportunity to fine-tune the options available on the Corvette, spanning a wide range of performance and luxury levels.
The C3 Corvette soft top was patterned on the Mako Shark II concept car, which was accidentally revealed early to the public thanks to a goof on the part of the Hot Wheels manufacturers. This new styling, with the "sugar scoop" roof as well as small touches like the hide-away windshield wipers, helped this model break away from earlier generations and set the stage for the powerhouse that the Corvette convertible became in the late 1970s.
If you have one of these classic cars that is showing its age, we offer replacement Corvette C3 convertible tops in a variety of colors and fabrics to suit your car's needs.