If you've made the decision to replace the old and dirty carpet in your automobile, we applaud you!  Installing new carpet in your vehicle is a great way to give the interior (or trunk carpet) an instant facelift and freshen up the vehicle (smells included!). 
One of your first steps will be to purchase new carpet for your vehicle and you'll see that you have some options about new carpet.  You will want to make sure that you buy carpet specifically made for automotive use so it meets specifications for UV, fire, water and dirt resistance.  This carpet will also not be applied to only flat surfaces, like in a house, but will have to traverse curves, nooks and three-dimensional corners and cover up the edges and sides, so it will have to be specially made to work with those bends.  Also, it will take a lot of direct wear from shoes and the moisture and debris they will carry and needs to be heavy-duty. So, automotive carpet is definitely the way to go.
Next this carpet will have to be cut to fit the floorplan and contours of your vehicle.  Some online sources will recommend removing your old carpet and then using it as a template to cut your new carpet.  This is not recommended for several reasons. First, the old carpet is just that -- old. It may be stretched or looser in one area, plus it is easy to damage during removal, so it will not yield a reliable template.  In addition, you risk wasting time and money if you make cutting errors or installation blunders, or risk having visible mistakes on your floorboard if you don't resolve them.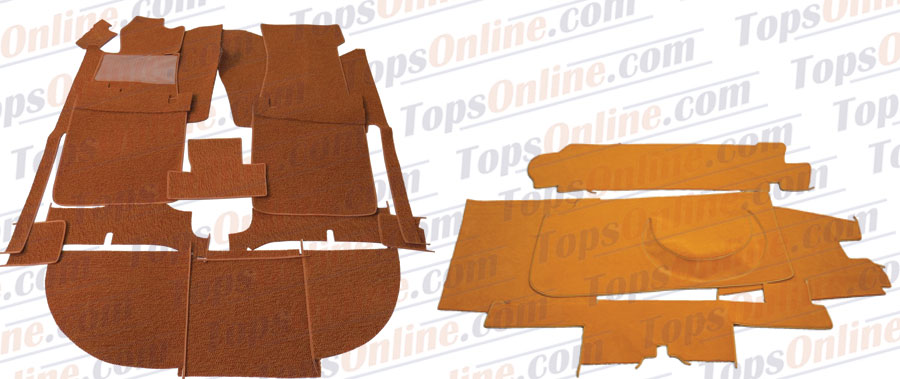 The good news is that carpet kits are available to alleviate all of these pain and risk points, by offering pre-cut carpet segments made to factory original layouts and floor plans for your vehicle to help you have a professional new carpet installation.  There are two general types of carpet kits:
Cut and Sewn Carpet Kits

Molded Carpet Kits
Cut and sewn kits will have binding on the edges to prevent fraying and separation of carpet fibers, even from edges that are covered by trim.  Molded carpets are just how they sound and have contours to traverse over the floor of the car and any pipes or cables. Some carpet kits are cut and sewn, but meant to lay over molded pads, like in some Mercedes models.  Most European car models came with a cut and sewn style up to the mid-1970's and then switched to a molded style. Mercedes switched to molded carpets after 1989, Porsche switched to molded after 1998 and Jaguar switched to molded in the mid-1990's.  American models changed to molded styles earlier, in the 1950's. All new models use molded style carpets.  Kits can also be specified for certain areas, like the interior carpet or the trunk carpet. 
Here are some of the benefits of purchasing kits for your replacement automobile carpet:
Heavy-duty carpet made specifically for automobile applications

Color matching, materials and carpet construction available to match original factory installed carpets so you can have an "off the lot" match to your year/make/model

Pre-cut carpet segments to fit the specific year, make and model layout of your vehicle, so you can skip cutting pieces yourself (and skip the risk of cutting errors) and get right to work

Pre-cut notches and holes where applicable to fit gear shifters, etc. with molded pads and finished edges where applicable

Made to fit the uneven surfaces of your vehicle without stress
TopsOnline offers premium replacement carpet kits with many options.  Full replacement passenger area interior carpet kits, replacement trunk carpet kits, replacement rear-well carpet kits and more.  We even offer carpeted floor mats for some models, so you can protect your newly installed carpet. These carpet kit options make restoring the interior of your automobile easier and faster and help you have a factory-fresh looking interior.  Get started on your project today!