Seat Covers
1979 thru 1985 Mercedes 230C, 230CE, 280C, 280CE & 300CD 2 Door Coupe (Chassis C123)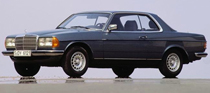 Factory style replacement Seat Covers. Manufactured to factory specifications and workmanship. Available in your choice of Original MBZ Leather or Original MB-Tex Vinyl. Seat Covers will fit both Left hand & Righ hand drive models.
Click here to see 79-85 2 Door Coupe Mercedes 123 Seat Cover Pictures
This set of replacement Seat Covers is hand crafted for the Mercedes Benz 230C, 230CE, 280C, 280CE & 300CD 2 Door Coupe models (Model C123), and fits the 1979, 1980, 1981, 1982, 1983, 1984 and 1985 model years. These Seat Covers are available in your choice of original MBZ Leather or original MBZ MB-Tex Vinyl. These Seat Covers include a 3 year warranty against material defects & workmanship.
• Made with Factory style Piping Welt.
• Factory style stitching all around.
• Seat inserts are Lined with high density foam rubber & seat padding material as Original.
Late 79 thru 85 2 Door Coupe Replacement Seat Cover Options - 3 year warranty
Vinyl Seat Covers are made with original MB-Tex Leather textured Vinyl and Diamond embossed Vinyl inserts. Leather Seat Covers are made with original MBZ Leather and Diamond embossed Leather inserts.
• Front Covers kit includes, 2 front Cushion covers, 2 front Backrest covers, 2 front Headrest covers & 1 front Center arm rest cover.
• Rear Covers kit includes, 1 rear Cushion cover, 1 rear Backrest cover, 1 rear Center arm rest cover & 1 rear Cushion center Pillow cover.
• Backrest Back Panel Cover is, Matching Leather or Vinyl to recover the 2 front seat backrest back panels. If your existing back panel covers are in good shape, you can re-use them.
• Front & Rear Covers kit includes, everything listed in Front Covers kit, Rear Covers Kit & Backrest back panels.
• This model has single stitching between the pleats same as original for late 79 thru 85 models, will not fit earlier 77 thru early 79 models that has Heat-sealed seams between the pleats.
Click here to see Mercedes C123 front seat backrest back panel picture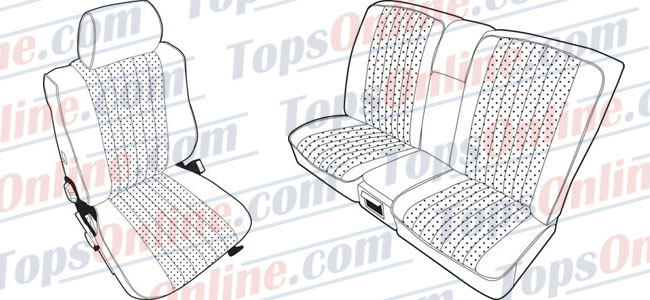 Click on any color swatch
to see a bigger version.
Front Covers
Kit
Rear Covers
Kit
Backrest Back
Panel Covers
Front & Rear
Covers (Kit)
Black MB-Tex Vinyl
$ 395.00 >>Buy
$ 395.00 >>Buy
$ 29.00 >>Buy
$ 775.00 >>Buy
Grey MB-Tex Vinyl
$ 395.00 >>Buy
$ 395.00 >>Buy
$ 29.00 >>Buy
$ 775.00 >>Buy
Blue MB-Tex Vinyl
$ 395.00 >>Buy
$ 395.00 >>Buy
$ 29.00 >>Buy
$ 775.00 >>Buy
Cream MB-Tex Vinyl
$ 395.00 >>Buy
$ 395.00 >>Buy
$ 29.00 >>Buy
$ 775.00 >>Buy
Creme Beige MB-Tex Vinyl
$ 395.00 >>Buy
$ 395.00 >>Buy
$ 29.00 >>Buy
$ 775.00 >>Buy
Palomino MB-Tex Vinyl
$ 395.00 >>Buy
$ 395.00 >>Buy
$ 29.00 >>Buy
$ 775.00 >>Buy
Brazil MB-Tex Vinyl
$ 395.00 >>Buy
$ 395.00 >>Buy
$ 29.00 >>Buy
$ 775.00 >>Buy
Sienna MB-Tex Vinyl
$ 395.00 >>Buy
$ 395.00 >>Buy
$ 29.00 >>Buy
$ 775.00 >>Buy
Henna Red MB-Tex Vinyl
$ 395.00 >>Buy
$ 395.00 >>Buy
$ 29.00 >>Buy
$ 775.00 >>Buy
Middle Red MB-Tex Vinyl
$ 395.00 >>Buy
$ 395.00 >>Buy
$ 29.00 >>Buy
$ 775.00 >>Buy
Avocado MB-Tex Vinyl
$ 395.00 >>Buy
$ 395.00 >>Buy
$ 29.00 >>Buy
$ 775.00 >>Buy
Olive MB-Tex Vinyl
$ 395.00 >>Buy
$ 395.00 >>Buy
$ 29.00 >>Buy
$ 775.00 >>Buy
Black MBZ Leather
$ 695.00 >>Buy
$ 695.00 >>Buy
$ 99.00 >>Buy
$ 1,435.00 >>Buy
Grey MBZ Leather
$ 695.00 >>Buy
$ 695.00 >>Buy
$ 99.00 >>Buy
$ 1,435.00 >>Buy
Blue MBZ Leather
$ 695.00 >>Buy
$ 695.00 >>Buy
$ 99.00 >>Buy
$ 1,435.00 >>Buy
Cream MBZ Leather
$ 695.00 >>Buy
$ 695.00 >>Buy
$ 99.00 >>Buy
$ 1,435.00 >>Buy
Creme Beige MBZ Leather
$ 695.00 >>Buy
$ 695.00 >>Buy
$ 99.00 >>Buy
$ 1,435.00 >>Buy
Palomino MBZ Leather
$ 695.00 >>Buy
$ 695.00 >>Buy
$ 99.00 >>Buy
$ 1,435.00 >>Buy
Brazil MBZ Leather
$ 695.00 >>Buy
$ 695.00 >>Buy
$ 99.00 >>Buy
$ 1,435.00 >>Buy
Henna Red MBZ Leather
$ 695.00 >>Buy
$ 695.00 >>Buy
$ 99.00 >>Buy
$ 1,435.00 >>Buy
Middle Red MBZ Leather
$ 695.00 >>Buy
$ 695.00 >>Buy
$ 99.00 >>Buy
$ 1,435.00 >>Buy
Green MBZ Leather
$ 695.00 >>Buy
$ 695.00 >>Buy
$ 99.00 >>Buy
$ 1,435.00 >>Buy