These replacement Vinyl Sport Seat Covers and Seat Foam Kit are the Full Set (Front and Rear) or Front Only for the 1999-2004 Ford Mustang GT Coupe and Convertible models. It is an upholstery set used to transform factory 1999-2004 GT Seats into the Sport XR Hi-Back Style Seats.
• Full Set includes a total of 6 pieces of upholstery: Upholstery for two complete front seats and Upholstery for one complete rear seat.
• Upholstery kits will come with 2 sets of Front Seat Foams that will fit over your original seat frame and head rest post. The Sport XR front bucket seat foam that comes with this upholstery is ONLY for use with seat frames found in all GT & Cobra Mustangs and WILL NOT fit on V6 Mustang seat frames.
• These Sport XR upholstery sets have Vinyl Bolsters with Premium Black Vinyl (matte finish to vinyl) Back and Sides and High-Quality Black UniSuede Inserts. They also have Contrast Stitching throughout & the color seen behind the grommets matches the Contrast Stitching.
• The grommets are available in stainless steel or satin black. These seats feature the Stainless Steel Grommets. Please scroll down for the Satin Black Grommets.
• The Sport X series is all vinyl and does not have the UniSuede inserts in the bolsters.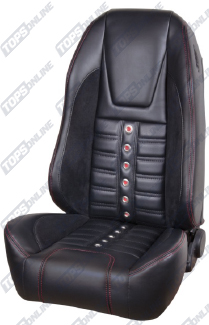 Click on any color swatch or picture below to see a bigger version.
Full Set For
Coupe Model
Full Set For
Convertible Model
Front Seat Covers
Bucket Seats
Premium Black Vinyl & Suede Inserts with Black Contrast Stitching & Steel Grommets

$ 1,290.00

Add to Cart »

$ 1,290.00

Add to Cart »

$ 1,063.00

Add to Cart »
Premium Black Vinyl & Suede Inserts with White Contrast Stitching & Steel Grommets

$ 1,290.00

Add to Cart »

$ 1,290.00

Add to Cart »

$ 1,063.00

Add to Cart »
Premium Black Vinyl & Suede Inserts with Red Contrast Stitching & Steel Grommets

$ 1,290.00

Add to Cart »

$ 1,290.00

Add to Cart »

$ 1,063.00

Add to Cart »
Premium Black Vinyl & Suede Inserts with Blue Contrast Stitching & Steel Grommets

$ 1,290.00

Add to Cart »

$ 1,290.00

Add to Cart »

$ 1,063.00

Add to Cart »
Premium Black Vinyl & Suede Inserts with Gray Contrast Stitching & Steel Grommets

$ 1,290.00

Add to Cart »

$ 1,290.00

Add to Cart »

$ 1,063.00

Add to Cart »