These deluxe replacement Front and Rear Seat covers are for the Ford Mustang Mach 1 Convertible with hi-back bucket seats. Includes a total of 6 pieces: 2 front seat bottoms, 2 front seat backs, 1 rear seat bottom and 1 rear seat back.
• Note: Deluxe Upholstery comes in 2 Distinct styles, and this style is made with Corinthian Grain Vinyl Trim w/ Comfortweave Inserts and an Accent Stripe on ONLY the Front Seats.
• Front seats are the same for all models and can be purchased separately as well, you can order them separately below.
• These seat covers without stripes on the rear seats will only fit the Convertible Mach 1. If your Mach 1 is a Coupe or Sportsroof, these covers will not fit your car. The front seats have stripes just like original, but the rear seats do not.
• This set of replacement seat covers does not include the plastic shell which goes on the back of the front bucket seats. That must be purchased separately.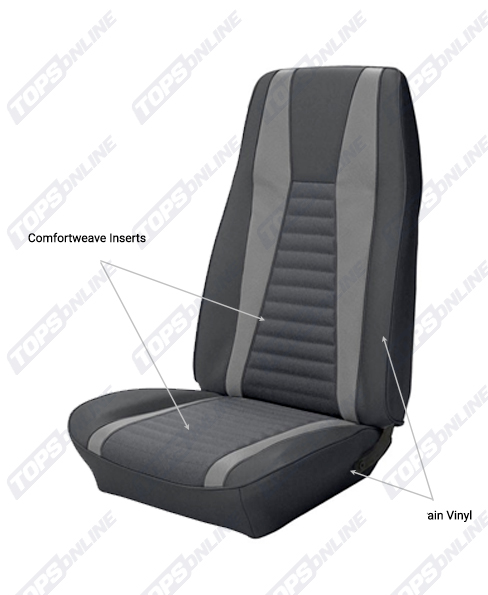 Click on any color swatch or picture below to see a bigger version.
Full Set For Convertible Model
Black Corinthian Grain Vinyl Trim with Comfortweave Inserts & Black Accent Stripe

$ 500.00

Add To Cart »
Black Corinthian Grain Vinyl Trim with Comfortweave Inserts & White Accent Stripe

$ 500.00

Add To Cart »
Black Corinthian Grain Vinyl Trim with Comfortweave Inserts & Vermilion Accent Stripe

$ 500.00

Add To Cart »
Black Corinthian Grain Vinyl Trim with Comfortweave Inserts & Gray Accent Stripe

$ 500.00

Add To Cart »
White Corinthian Grain Vinyl Trim with Comfortweave Inserts & Black Accent Stripe

$ 500.00

Add To Cart »
White Corinthian Grain Vinyl Trim with Comfortweave Inserts & White Accent Stripe

$ 500.00

Add To Cart »
White Corinthian Grain Vinyl Trim with Comfortweave Inserts & Vermilion Accent Stripe

$ 500.00

Add To Cart »
White Corinthian Grain Vinyl Trim with Comfortweave Inserts & Gray Accent Stripe

$ 500.00

Add To Cart »
Medium Ginger Corinthian Grain Vinyl Trim with Comfortweave Inserts & Medium Ginger Accent Stripe

$ 500.00

Add To Cart »
Vermilion Corinthian Grain Vinyl Trim with Comfortweave Inserts & Vermilion Accent Stripe

$ 500.00

Add To Cart »
Dark Red Corinthian Grain Vinyl Trim with Comfortweave Inserts & Dark Red Accent Stripe

$ 500.00

Add To Cart »
Medium Blue Corinthian Grain Vinyl Trim with Comfortweave Inserts & Light Blue Accent Stripe

$ 500.00

Add To Cart »
Medium Blue Corinthian Grain Vinyl Trim with Comfortweave Inserts & Medium Blue Accent Stripe

$ 500.00

Add To Cart »
Dark Blue Corinthian Grain Vinyl Trim with Comfortweave Inserts & Light Blue Accent Stripe

$ 500.00

Add To Cart »
Medium Green Corinthian Grain Vinyl Trim with Comfortweave Inserts & Medium Green Accent Stripe

$ 500.00

Add To Cart »