These replacement Sport II Seat covers are the Full Set (Front and Rear) or Front Only for the Ford Mustang Mach1/Shelby Coupe, Convertible and Sportsroof models. Mach1/Shelby
• Full Set includes a total of 6 pieces of upholstery: Upholstery for two complete front seats, and Upholstery for one complete rear seat.
• New Sport II Seat foam is required for a proper fit on the front bucket seats and provide increased side and leg bolsters.
• This upholstery fits on the factory frame and uses the factory attachment points. Front seats are the same for all models and can be purchased separately.
• This is the second generation sport seat with a new, more aggressive shape with increased side and leg bolsters. It features Corinthian grain vinyl and Comfortweave grain inserts with your choice of accent color stripe.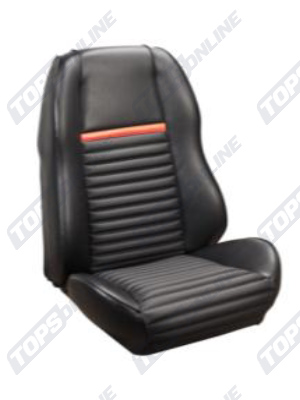 Click on any color swatch or picture below to see a bigger version.
Full Set For
Coupe Model
Full Set For
Convertible Model
Full Set For
2 + 2 Fastback Model
Front Only Buckets
For All Models
Black Corinthian trim with Comfortweave insert and Red Stripe

$ 599.00

Add to Cart »

$ 599.00

Add to Cart »

$ 599.00

Add to Cart »

$ 441.00

Add to Cart »
Sport II Seat Foam for ONE Seat

$ 182.00

Add to Cart »