These replacement Vinyl Sport R Seat Cover Kits are the Full Set (Front and Rear) or Front Only for the 1971-1972 Chevy Chevelle Convertible models with BUCKET seats.
• Full Set includes a total of 5 pieces of upholstery and the Bucket Seat Foam: Upholstery for two complete front seats and Upholstery for one complete rear seat. The Front only kits contain the 4 pieces of Front Bucket upholstery and the Bucket Seat Foam
• These factory reproduction upholstery Sport Seats are designed to fit over TMI's sport R seat pad foam, as these seat covers are designed for increased bolstering for added comfort. (Seat Foam is Included with Purchase of Kit)
• Sport R seats feature uni-suede inserts with a double stitched french seam and your choice of contrasting stitch colors. These modern features are integrated into the original seat pattern to offer the styling of a modern racing seat while still maintaining the stock elements for your 1971-1972 Chevelle
• Note: TMI Upholstery requires the use of stock or stock-type seat frames. TMI Products Seat Foam is also required and included. Headrest covers are not included.
Contrast Stitch Colors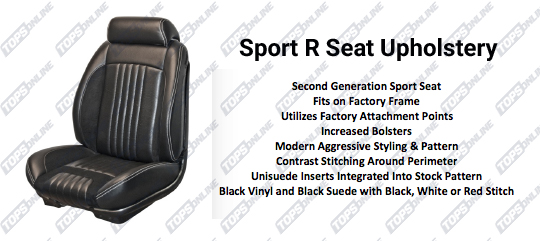 Click on any color swatch or picture below to see a bigger version.
Full Set KIT
Front & Rear w/ Foam
Black Vinyl & Suede w/ White Stitch

$ 812.00

Add to cart »
Black Vinyl & Suede w/ Red Stitch

$ 812.00

Add to cart »
Black Vinyl & Suede w/ Black Stitch

$ 812.00

Add to cart »
Black Vinyl & Suede w/ Gray Stitch

$ 812.00

Add to cart »
Black Vinyl & Suede w/ Blue Stitch

$ 812.00

Add to cart »