Convertible Tops & Accessories
1956 thru 1958 Chevy Corvette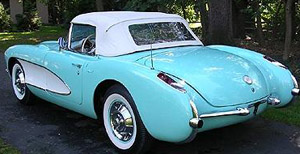 Factory style top with Sewn in Plastic Window as original. We offer EZ ON & Robbins brand Tops. EZ ON brand available with regular Plastic window or with date stamped Plastic window. Robbins brand available with regular window & with original style Warning Tag sewn on driver side quarter binding.
This convertible top for the Chevrolet Corvette fits the 1956, 1957 & 1958 model years.
• All the seams are heat-sealed from the outside, and stitched and heat-sealed from the inside. All convertible top materials are mildew & mold resistant, and UV treated for color fastness. No sewing is required - all you need is to install your new convertible top and you will be ready to go!
Robbins Brand Convertible Top with Plastic Window Options - 6 year warranty
These Tops are made with matching color binding (edging) & stitching. Custom-made tops are available as well: if you would like other colors and materials for the top, binding, and stitching, please inquire.
• EZ ON Date Stamped Rear Window = 4 digits stamped on rear plastic window, for example if car manufactured date is September 1954 the 4 digits stamped on the rear window will look 0954. We will confirm with you manufactured Month & Year of the car.
• Robbins with Warning Tag = Factory style Warning Tag sewn on driver side Quarter binding. Rear window is Regular window without date stamp.
Convertible Top Pads - 6 year warranty
We offer Black and Tan color Convertible Top Pads. Color of the Top Pads should match the interior side (Back side) of your convertible Top color. Choose Top Pads color based on inside color of your Convertible Top cover.
• Factory style Corvette Top Pads with rear Quarter Straps. Top Pads are made with special heavy duty Topping material. You can re-use your existing Top Pads if they are in good shape. Top Pads sold as a set, buy one order per car.
EZ ON Brand
Top Pads
Robbins Brand
Top Pads
Black Color Factory Style Convertible Top Pads With 1/4 Straps
$ 44.00 >>Add to Cart
$ 99.00 >>Add to Cart
Tan Color Factory Style Convertible Top Pads With 1/4 Straps
$ 79.00 >>Add to Cart
$ 99.00 >>Add to Cart