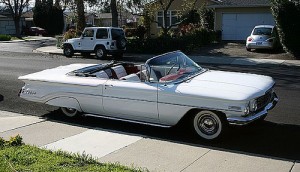 Photo courtesy Flickr/Convertible Car Ads
Q. Can I install the replacement convertible top myself?
A. This depends on your level of mechanical skill, what the specific top requires for installation, and whether you have the correct equipment.
Most tops do NOT require any sewing for the installation. However, installation for about 85% of our replacement convertible tops requires a heavy-duty stapler, and solvent base high-heat-resistant contact cement. As well as the usual tools you would use for any car repair job, such as a set of screwdrivers and wrenches.
We recommend that you have a professional install the top, for the best results. However if you want to give it a try, then ask us for a copy of the installation instructions in the "Customer Comment" box on the order form. If we have it, we will send you a copy of the diagrams that we keep on hand.
Please note that these are NOT step-by-step instructions. It will be a copy from a convertible top manual that will give you a basic idea on how to proceed. When you are removing your old top, pay close attention to all the specific steps and small pieces used. If you have a digital camera, take lots of pictures of the removal process. That way you can refer to the pictures during installation, if you can't figure out how a particular bit is supposed to look.
As with any car repair, you have to weigh the cost savings against any potential damage or poor results. If you want to be sure that your convertible top is replaced correctly and professionally, then we recommend that you look up the nearest installer on our Installers Near You page.