Convertible Tops & Accessories
2004 thru 2010 Mercedes CLK320, CLK350, CLK500, CLK550, CLK55 & CLK63 (Chassis 209)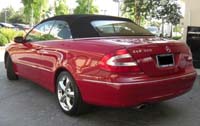 Factory style Top only, must re-use factory Glass window. Made with Hand-Rolled Binding & Rainguards as original. Factory original Zipper on Top listings to Zip into factory Top pad. Top fits both Left & Right hand drive models.
This convertible top for the Mercedes Benz CLK320, CLK350, CLK500, CLK550, CLK55 & CLK63 Cabriolet (Body style 209) fits the 2004, 2005, 2006, 2007, 2008, 2009 and 2010 model years. Available in your choice of EZ ON & Robbins quality tops, both brands use only premium Haartz convertible topping and original German materials in the craftsmanship of these convertible tops. This top includes a six year warranty against material defects & workmanship.
• All the seams are heat-sealed from the outside, and are stitched and heat-sealed from the inside, to ensure durability.
• All convertible top materials are mildew & mold resistant, and are UV treated for color fastness.
• Factory material is German A5 Sonnenland Cloth. We also offer the Stayfast Cloth & Twillfast Cloth materials as an less expensive alternative. Both materials will fit and last the same as German Cloth Top, the only difference is the weave look.
• Other colors & materials can be ordered, please inquire.
Replacement Convertible Top Cover Only Options - 6 year warranty
Hardware for rear Glass window installation & detailed Glass window installation instructions with pictures included with the Top.
• We offer EZ ON & Robbins brand Convertible Tops. Both brands are used by professionals, and are known for their quality workmanship & precision tailored craftsmanship. The convertible top you buy will be a great fit for your car.
• New Headliner (inside cover) not included with the Top, you can re-use your existing Headliner if it is in good shape or you can buy a new Headliner separately.
• German A5 Sonnenland Cloth, Twillfast Cloth & Stayfast Cloth are also known as Canvas & Mohair.
• Fits models with manufacture date starting June 2003 & up.
Click on any color swatch
to see a bigger version.
EZ ON
Brand Top
Robbins
Brand Top
Black A5 Sonnenland German Cloth
$ 759.00 >>Buy
$ 869.00 >>Buy
Dk. Blue A5 Sonnenland German Cloth
$ 759.00 >>Buy
$ 869.00 >>Buy
Orion Grey A5 Sonnenland German Cloth
$ 759.00 >>Buy
$ 869.00 >>Buy
Graphite Grey A5 Sonnenland German Cloth
$ 759.00 >>Buy
$ 869.00 >>Buy
Black Twillfast Cloth
$ 639.00 >>Buy
Dk. Blue Twillfast Cloth
$ 639.00 >>Buy
Black Stayfast Cloth
$ 599.00 >>Buy
Dk. Blue Stayfast Cloth
$ 599.00 >>Buy