Convertible Tops & Accessories
1957 thru 1963 Mercedes 300SL (Chassis 198)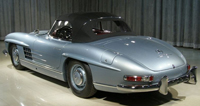 Factory style Convertible Top with Plastic window, made with Hand-Rolled binding and Sewn-in side cables as original. Top fits both Left & Right hand drive models.
This convertible top for the Mercedes 300SL (Body style 198) fits the 1957, 1958, 1959, 1960, 1961, 1962 and 1963 model years. Made by Robbins Auto tops, Robbins uses only premium Haartz convertible topping and original German materials in the craftsmanship of these convertible tops. The plastic windows are DOT rated heavy 40 gage vinyl; safe, durable plastic that enhances the quality of this convertible top. This top includes a six year warranty against material defects & workmanship.
• All the seams are heat-sealed from the outside, and are stitched and heat-sealed from the inside, to ensure durability.
• The rear Plastic window is stitched and heat-sealed on cloth tops.
• All convertible top materials are mildew & mold resistant, and are UV treated for color fastness.
• For even more UV protection, Sunguard thread is used on all convertible tops and windows.
Convertible Top with Plastic Window Options - 6 year warranty
Factory material is German Cloth. Other colors can be ordered, please inquire.
• Top is made by Robbins Auto Tops, Robbins brand is used by professionals, and is known for quality workmanship & precision tailored craftsmanship. The convertible top you buy will be great fit for your car.
• We offer the Haartz Stayfast Cloth & Haartz Twillfast Cloth materials as an less expensive alternative. Both materials will fit and last the same as German Cloth Top, the only difference is the weave look.
• German Cloth, Twillfast Cloth & Stayfast Cloth are also known as Canvas & Mohair.
Click on any color swatch
to see a bigger version.
Robbins
Brand Top
Black on Tan German Cloth
$ 549.00 >>Buy
Dk. Blue on Tan German Cloth
$ 549.00 >>Buy
Tan on Tan German Cloth
$ 549.00 >>Buy
Dk. Brown on Tan German Cloth
$ 549.00 >>Buy
Black on Tan Twillfast Cloth
$ 519.00 >>Buy
Dk. Blue on Tan Twillfast Cloth
$ 519.00 >>Buy
Tan on Tan Twillfast Cloth
$ 519.00 >>Buy
Dk. Brown on Tan Twillfast Cloth
$ 519.00 >>Buy
Black on Tan Stayfast Cloth
$ 459.00 >>Buy
Dk. Blue on Tan Stayfast Cloth
$ 459.00 >>Buy
Tan on Tan Stayfast Cloth
$ 459.00 >>Buy
Dk. Brown on Tan Stayfast Cloth
$ 459.00 >>Buy