Q: What fabrics do you offer for Ford Mustang convertible tops?
A. We offer quality replacement convertible tops for Mustangs by both EZ On and Robbins. Depending on the model year, we offer tops in pinpoint vinyl, Haartz Stayfast cloth (also known as Canvas & Mohair), Twilfast RPC cloth, and sailcloth textured vinyl for more recent models.
For each model year, we will let you know which fabrics were the factory style – for example, the factory top material for the 1987 and 1988 Ford Mustang was the pinpoint vinyl for white tops, and the Stayfast cloth for all other colors.
As with all of our convertible tops, regardless of which model year and factory style cloth originally was used for your Ford Mustang, we can always substitute a different cloth. All of the materials we offer can be customized and swapped in, just let us know what color and material you want, and we will be happy to order it for you!
Here are some of the questions we received from our customers this week.  Hopefully these will help you as well as you are researching convertible tops!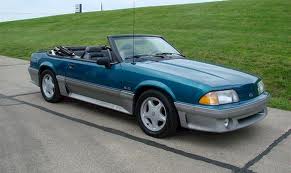 Question: We are re-doing a 1993 Mustang for my daughter's birthday. If we change the color of the top, do I need to buy the window section? Her window section is in good shape, but it is black; we want to go with tan. Do you have a special price for packaged items? We need a headliner, pads, new top and I think that is it unless we need something else? Thanks, Martha.
Answer: Mustang convertible top windows have material that borders the window.  So, when you change the color of the Mustang top, you will need to replace the rear window; if you do not, you will have a convertible top of one color with a window border of a different color.  To answer your second question, yes, we do offer packaged items at a better overall price when compared to buying items a la carte; you can view our '93 Mustang convertible top selection here.
Question: How much does it cost to have a professional install a convertible top?  Can you recommend anyone in Orlando, FL?  Thanks, James R.
Answer: Great question!  Each trim shop and installer will have their own hourly rate; some may offer periodic specials as well.  For this reason, there is no "standard" rate to install a convertible top.  Therefore, it's best to contact several trim shops directly to get their rates and compare prices.  Please visit our Installer page, here; you might wish to start by checking with John's Auto Upholstery & Convertible, Orlando, FL 32802 (407-299-9552).

Question: Does this Chrysler Sebring convertible top come with the staples and glue needed for installation?
Answer: Great question, because not many people realize that many makes and models of convertible tops require staples and glue to be used when installing a new convertible top.  This is true for many cars, including the Chrysler Sebring convertible, pre-2004 Mustang convertible, and many other models.  Regarding staples and glue, we do not carry them for purchase, for two reasons.  First, glue is considered a hazardous substance when shipping, due to its high flammability; this would make it cost-prohibitive to ship to our customers.  Second, there are so many variety of staplers that a customer might have, that it is easier for our customers to purchase them locally; this ensures that they get the staples that fit the stapler they already have.  For this reason, the instructions that we include with the convertible top include a few recommendations for adhesive brands and staples that you can find easily at the local hardware store; that is the best place to purchase glue and staples for your convertible top.